LEISURE: Rescue police dog to showcase their skills at RSPCA West Hatch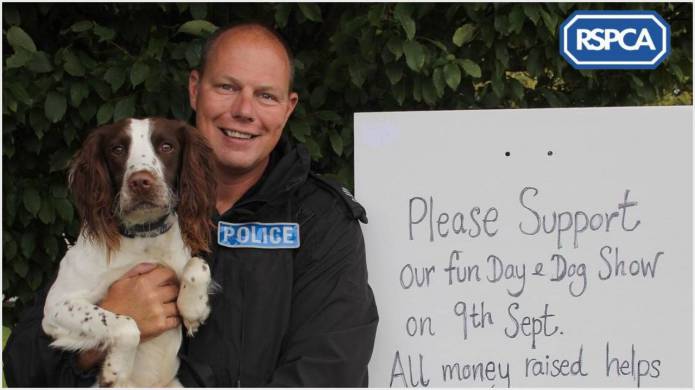 A NEWLY-RECRUITED police sniffer dog will be giving the public a rare chance to see what their specialist training involves when the RSPCA West Hatch Animal Centre opens its doors for a fun dog show.
Gunner, pictured with PC Lee Webb, is one of many dogs who have been rescued from neglect, abuse and abandonment by the RSPCA who is now a police sniffer dog.
He will be joining the fun and games when visitors flock to the animal rescue centre near Taunton this Saturday (September 9, 2017).
Promising to be a fantastic family day out, the fun day, run by the staff and volunteers at the animal welfare charity's centre, will be jam-packed with entertainment.
Starting at 11am, it will include police dog demonstrations and offer dogs and their owners the chance to take part in various competitions, including the waggiest tail and best trick - with a prize up for grabs for the best sausage catcher.
There will also be a dog agility course, children's crafts, refreshments, stalls, a bouncy castle, face painting, and a raffle.
Anita Clark, deputy manager at West Hatch RSPCA Animal Centre, said: "If you love dogs, this will be the perfect day out and a fun way for people to find out more about our work while raising funds to help the animals in our care."
The event will take place between 11am and 3pm on Saturday, September 9, 2017. For more information see the West Hatch RSPCA Animal Centre Facebook page.
RSPCA West Hatch Animal Centre is located in Cold Road, Taunton, TA3 5RT.
Tags:
Leisure.